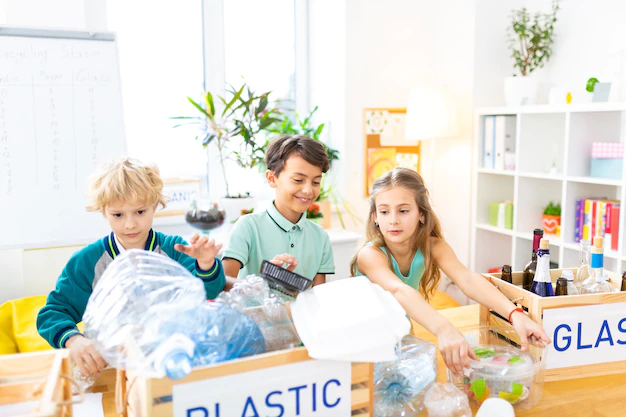 My Alma Mater- My School
School is the temple of learning they say Preparing the foundation for games in life you need to play Which None has denied or differed till this day Sure, in future, no other school of thought, can make it sway Nursery classes were exciting, with toys and games, full of fun, It was only alphabet, rhymes, numbers and we were done Loving names we were called, Cute, Smart, Pretty, Chubby and Naughty Not to forget the, umpteen times, your clothes, messed , with Potty Junior classes were a cakewalk, though new subjects we learnt The P.T. period, most exciting moments, in the field, were spent Class work, Homework, Manners, Stand up on the bench, Kneel down The new words and phrases in our dictionary, were found, Middle School threw up new challenges , the tip of the grind Sometimes, it would be so tough, you would go out of your mind Annual Sports, Concert and Teacher's Day, were close to our heart A rainy day , never dampened our spirits, in the slush, we played our part,
Senior class brought us face to face with Physics, Chemistry and Biology Unexpected, immensely tough and different kind of triology The innumerable formulas, laws, combinations, and jargon Unfortunately , finding it French and Latin some quit, in the bargain, Just as we were recuperating from the inevitable trauma Emerged Mr. William Shakespeare, our saving grace, with his drama The Merchant of Venice brought some entertainment, fun and laughter Any class with Shylock, the Jew, we were ready to barter,
The assembly, eight periods, punctuated with three breaks ,did we enjoy Not to mention the pranks, the jokes , the innovations, oh boy! Marbles, seven tiles, football , cricket, much more we played Focussed on our goals, proud our teachers , parents we made ! The years slipped by, some friends made their mark, few left behind
Excelling in academics, sports and games, acting, all of a different kind Some went steady, settled down later, developing an early crush The very mention of which, today, causes them to gush and blush, , The multi starrer called ICSE, with Math, History, Geography and English Physics, Chemistry, History, Geography, in this chronology, did finish A super Duper hit it was, the memories, we nourish and cherish, To our children and grandchildren , we ll proudly share , till we perish Incomplete it would be, without mention of the real superstars,Teachers Strict but loving, patient , helpful and maintained their stature With elaborate plans we looked forward, waited eagerly for Teacher's Day Poured, our love, respect and admiration at their feet, in our humble way! In our memory embedded, the fields, surroundings, classrooms, the library , An alumni, a classmate , a hint, that's all it takes to make you teary With family and friends we come back to our alma mater, our childhood Indebted, thankful, full of gratitude, for the foundation so solid and good!
"My Alma Mater- My School"

Ullas Pradhan

(Visiting Faculty, Communicative English, Ravenshaw University, & Founder SMART-EDGE SPOKEN ENGLISH, P.D. & ABACUS Academy , Cuttack, Odisha)